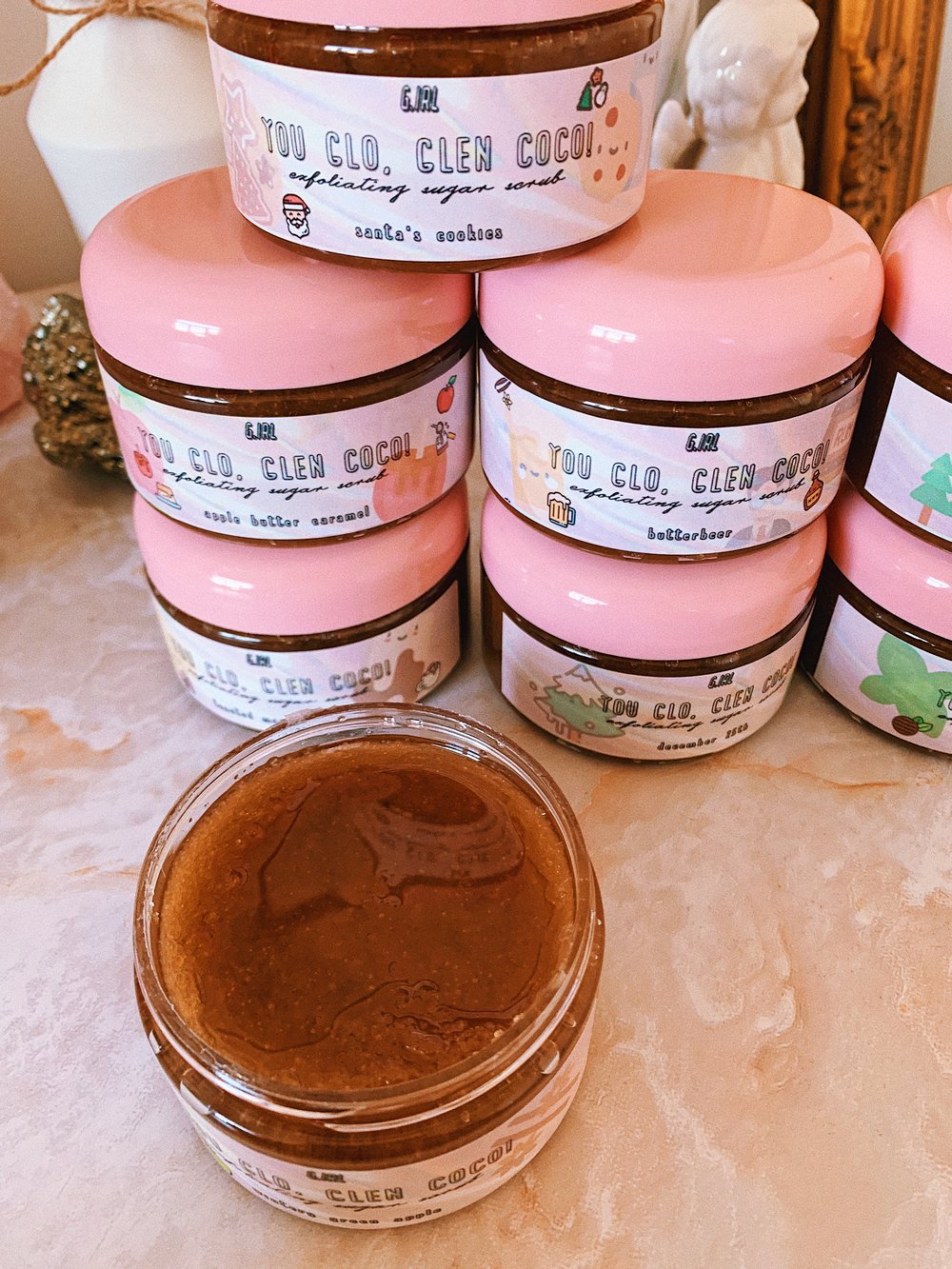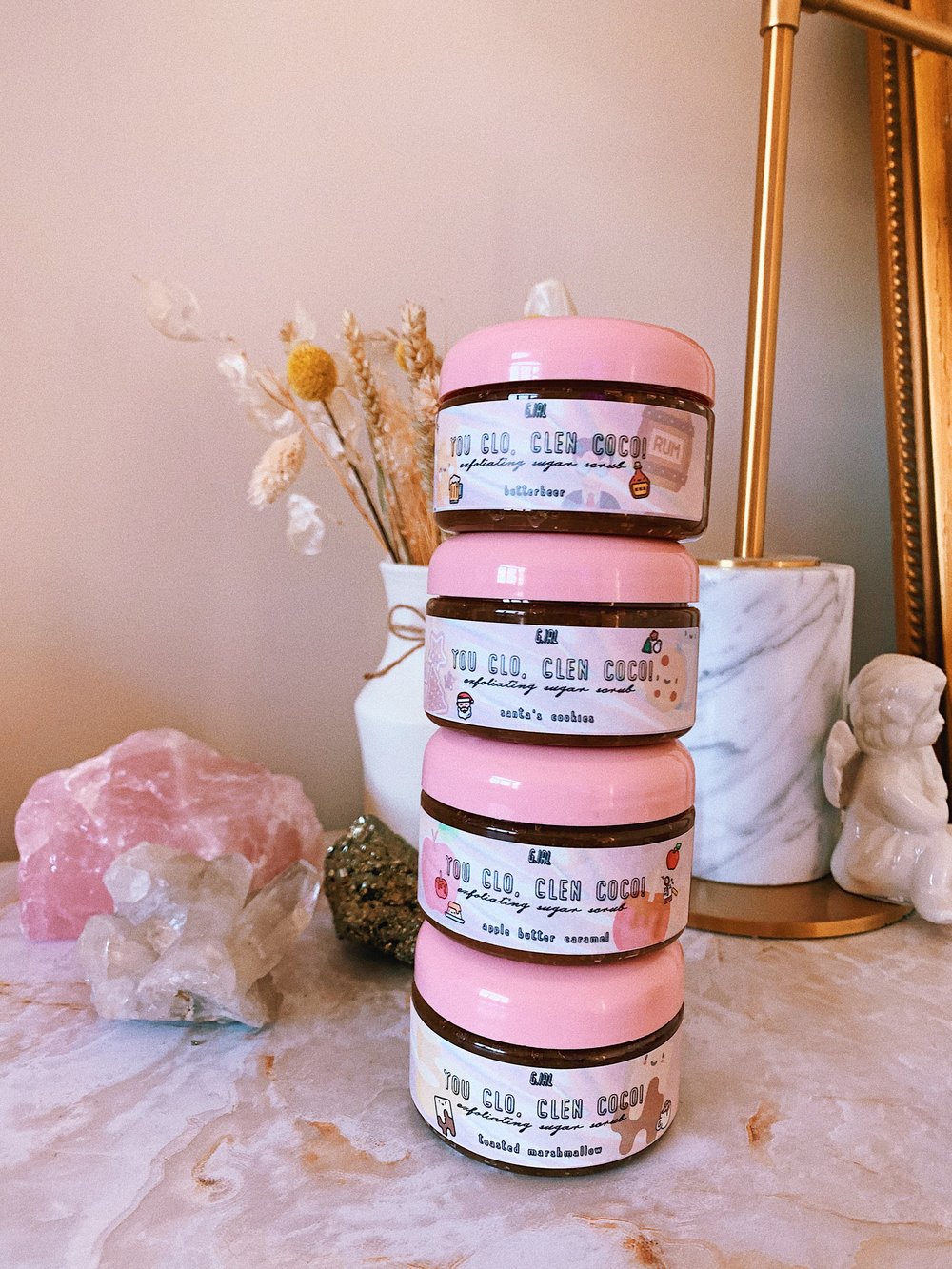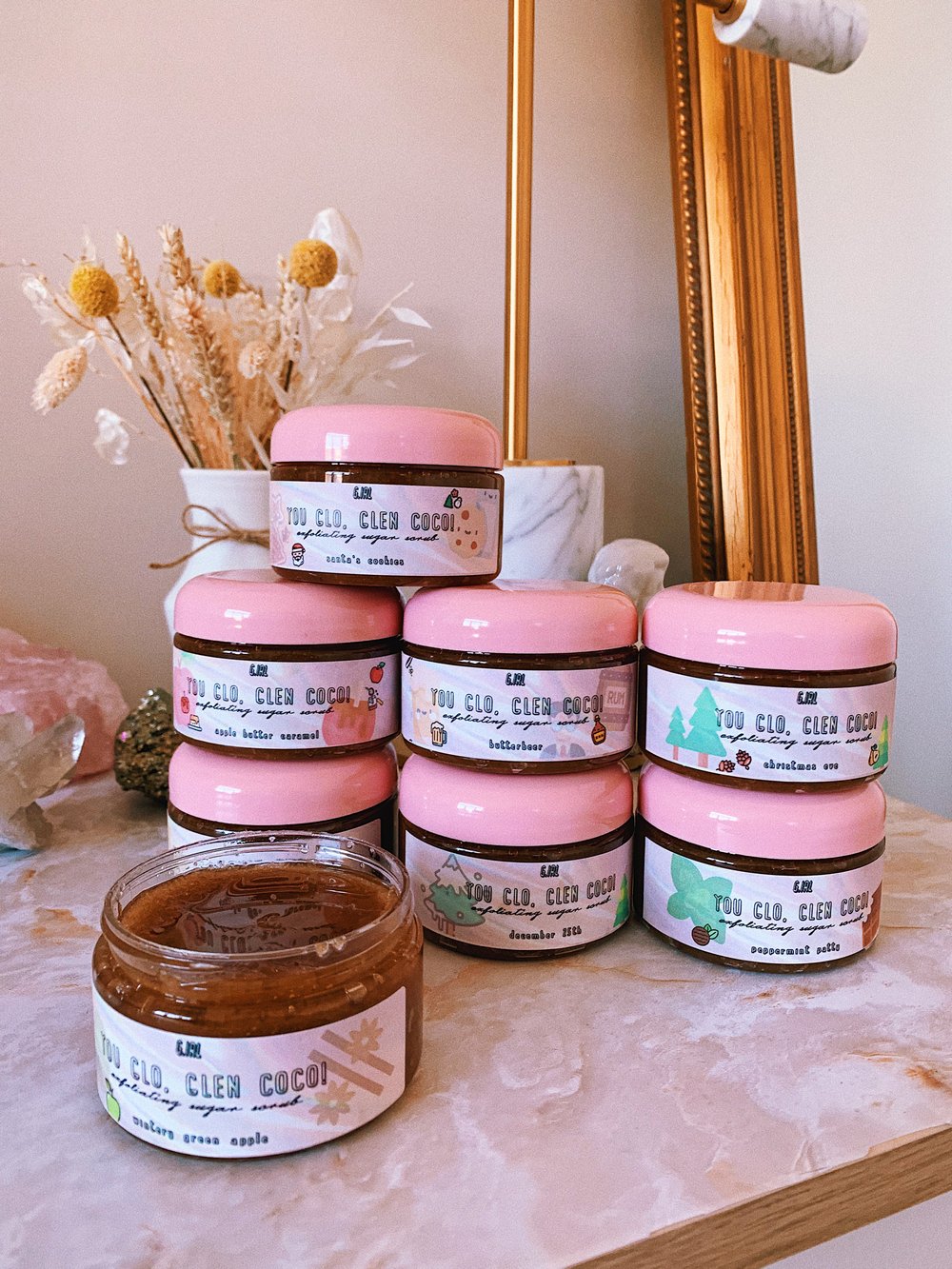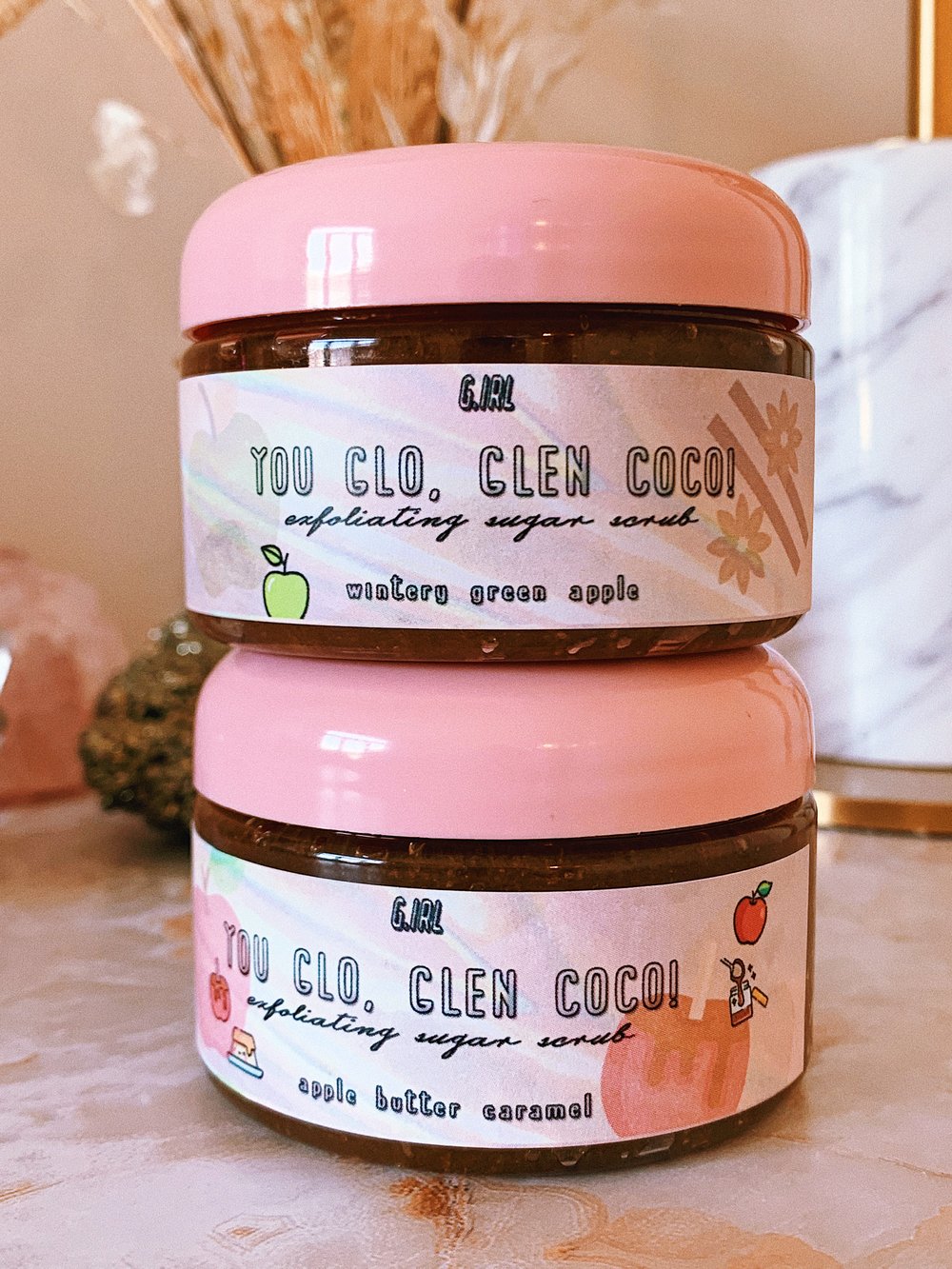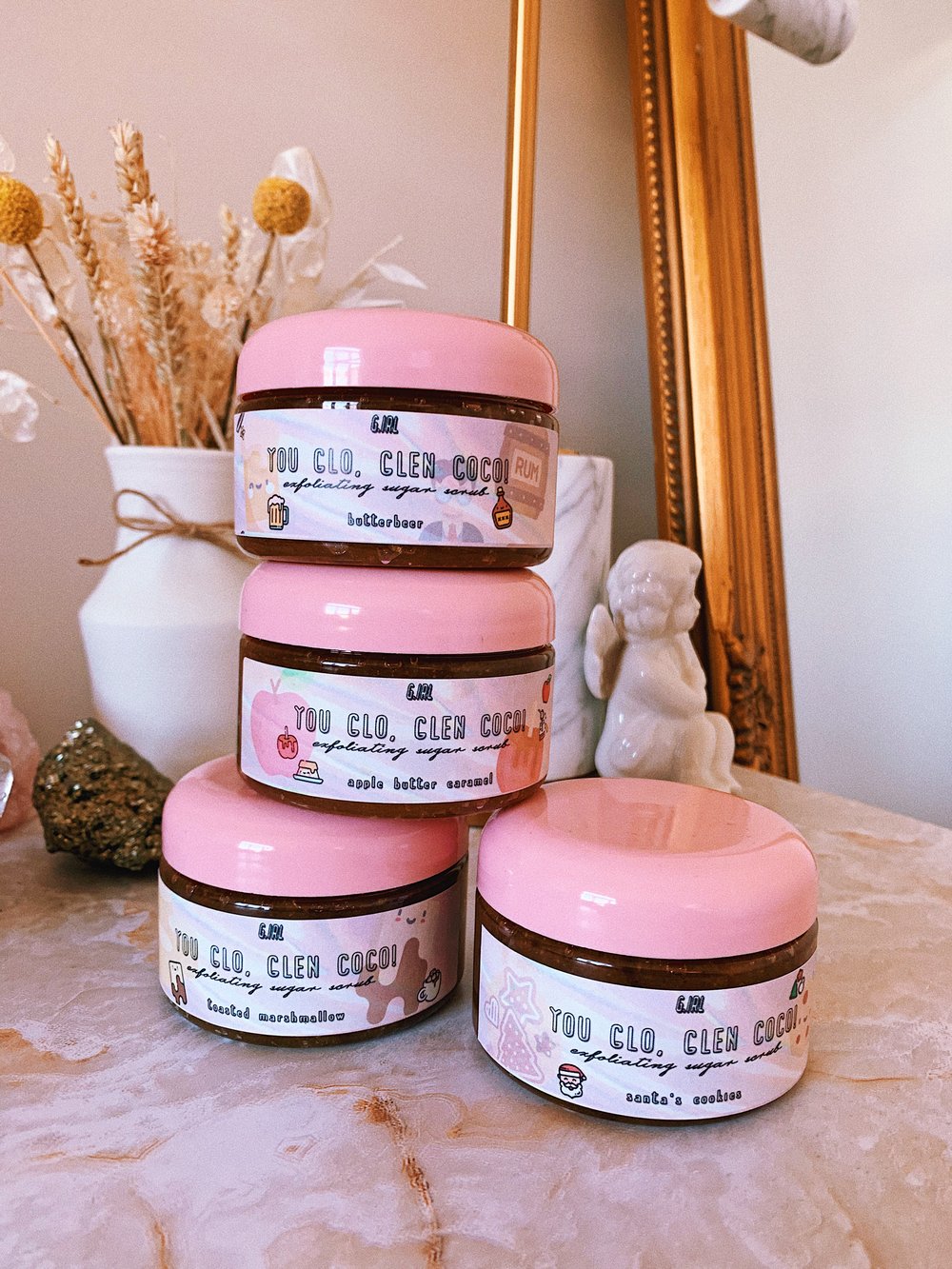 A very limited edition run of our popular "You Glo, Glen Coco" sugar scrubs. With the exact same formula to give you the same soft, supple, and nourished perfectly exfoliated skin, we're now offering them in brand new holiday scents for you to celebrate this up coming season! Get them for yourself, or gift them for your friends to have under their tree! These scents will not disappoint.
*Product is currently available for pre-order only! Please allow one week minimum for your item to be made. Please view our shipping policies for more details.*
- STORAGE: Always make sure to tighten the cap back as firmly as possible. Keep product airtight, and do not allow water to enter the container. This will cause the product to become rancid/moldy quicker. We recommend that you use your body scrub within 6 months.
- INGREDIENTS: Sunflower oil, vegetable glycerin, brown sugar, pure cane sugar, granulated sugar, honey, vitamin E, fragrance oil. Cruelty-free, not tested on animals and contains no sulfate, parabens or gluten.
SCENT DESCRIPTIONS:
- Butterbeer:
Calling all Harry Potter fans! This is exactlyyy what we imagine butterbeer from Hogsmead to smell like. Hot buttered rum, creamy buttery toffee, rich brown sugar and bourbon vanilla.
- Santa's Cookies: Freshly baked sugar cookies with extra sweet buttercream frosting, with fresh notes of vanilla extract. Smells similar to Vanilla Bean Noel.
- Toasted Marshmallow: This smells exactly like what you're imagining! The sweet sticky scent of marshmallows toasted over a campfire.
- Apple Butter Caramel: For those who love sweet scents, but still want to smell like the holidays. Fresh apple, steamed milk, pure brown sugar, caramel candy, toffee pudding, apple butter, fresh nutmeg, vanilla bean, and soft musk.
- Wintery Green Apple: For those who want a truer green apple + wintery scent. Crisp apple, pineapple, zests of orange, fresh cinnamon, sandalwood, fresh musk, bamboo, and patchouli.
- Mr. Gingerbread Man: Our best-selling scrub, now included as a holiday scent! Smells exactly like freshly baked gingerbread cookies, blended with a hint of sugar and cinnamon and an added touch of pumpkin spiced apple.
- Peppermint Patty: This smells exactlyy like a peppermint patty. If you're into those delicious mint chocolates, this scent is for you. Creamy peppermint and vanilla with bitter sweet chocolate.
- Christmas Eve: Think of the most Christmas-y scent you can think of, and it'll be this. This scent gives you the warm happy feeling everyone gets when they think of Christmas! Apples and pears, eucalyptus, pine, geranium; and notes of vanilla, cedarwood, and patchouli.
- December 25th: What smells more like Christmas morning than balsam, fir, and pine with the very faintest touch of cookies?